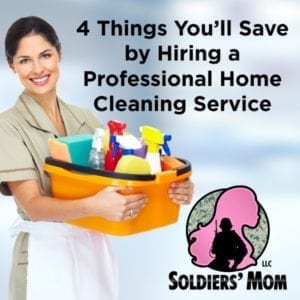 With today's standards of living, a fast-paced lifestyle is inevitable. Long hours at work leaves us with very little time for housework, let alone leisure. Time we're supposed to spend with family matters is rather spent at house chores. "Free time" becomes housecleaning time, and it's saddening that this is a reality for many households today.
Good news though, this doesn't need to be your problem too. What you need is a dedicated home cleaning service that will save you time and problems.
Here are the 4 things you save when you get a reliable professional home cleaning service:
TIME
The old proverb, "Time is gold", is quite true. Every minute spent at work earns us the resources to provide for ourselves and our families. But that also means less time to actually spend it with our family when it matters most.
So go ahead, let the cleaning pros save you all that time. Go out for a nature stroll, or camp out with the kids. You'll save not only time but also memories.
EFFORT
Cleaning is an art form not all of us have mastered. It's never as easy as it looks. Imagine painstakingly sifting through all your cleaning supplies only to find out that you only ne
Then think of all the highs and lows, every square inch to cover. And just when you think you're done – there's always more dust and grime in out-of-the-way places than you reckoned. So save yourself the precious effort and let on-call cleaning services do all the dirty work – literally.
STRESS
As it is, most of us are already jam-packed with the stress of our daily routine. From the morning rush to sundown slump, we can barely even get the dishes washed at times. Add up to that the pressing need for a general home-wide cleanup. Sound stressful? It doesn't have to be, though. All it takes is the right group of professionals to save you from all that unneeded stress. As it happens, Soldiers' Mom can do just that for you – stress-free. And they're just a couple clicks away.
HEALTH
Health is wealth as many of us know. This is why we spend a lot of money on keeping our health. Spending on healthy food, exercise, vitamin supplements, frequent checkups are examples of these. We want to keep ourselves and our families as healthy as possible.
Even so, some of us forget that health risks hide in our home itself.
According to a health information website, Healthline, we are under threat daily from these common dangers – yeast, mold, salmonella, e-coli, and staphylococcus aureus.
From carpets to ceilings, bathrooms to bedrooms – they're everywhere. Not cool. And no – same old cleaning won't clean won't get rid of' em either.
This is when professional cleaning services come in. They can clean up better than we have the time, tools or training to do on our own. So save yourself a potential bank-breaking hospital visit from staph and other nasties. Call the cleaning experts here.
So which cleaning service should you get?
Soldiers' Mom Military-Style Cleaning has plenty of cleaning options for you.
From the occasional general cleaning to deep cleaning and spring cleaning, we've got it all for you.
Plus, get a $30.00 discount on your first appointment now when you mention
SPRING30

upon booking!

Call Today! 833-ITS-CLEAN