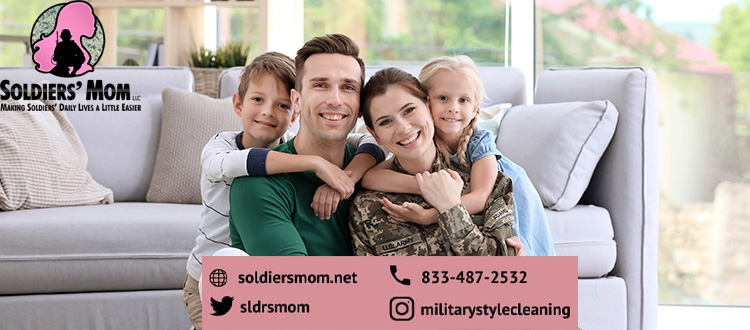 Q: What is Soldiers' Mom LLC ?
A: I see them all the time. I see their cars, flyers. I see them on Facebook. They sponsored the military spouses appreciation Day, Who are these people?
Well…
Soldiers' Mom provides what we call stand out, five-star, highly dependable, cost-effective, residential, and commercial cleaning services in Washington DC, VA, and MD.
We are a professional cleaning service specializing in providing a wide range of commercial, office, and residential cleaning services to the US Armed Forces and Department of Defense Personnel, corporate offices, technology firms, high-security government facilities, property management companies, and real estate investment firms. We operate with high integrity, taking pride in a job executed to perfection. Soldiers' Mom has been on the vendor list, and procurement list for Prime Government Services, and a vendor for Hunt Military Housing. We clean homes on all military installations in the DMV. We continue to meet and maintain all the requirements, including these insurance policies: a $1,000,000 commercial auto liability, $2,000,000 general liability, $500,000 workers compensation, and $500,000 excess liability. The coverage extends to and protects all our customers, the Secretary of the Air Force, Bolling Family Housing, and Hunt Shared Services, EMCOR Government Services and their clients. Soldiers' Mom is registered with gov.sam.beta, meets and maintains all the requirements to bid for, and accept government contracts as a PRIME and as a subcontractor. Soldiers' Mom has been recognized by Facebook and was awarded a grant as part of the Facebook Program to support Minority, Black-Owned small businesses during the Pandemic in 2020. Soldiers' Mom has been supporting military communities and saving people time. We appreciate your selfless service, we respect your jobs, your time, and we will continue to provide you with excellent services always.
Q: What should I know before hiring Soldiers' Mom?
A: That Soldiers' Mom is the name you can trust. Soldiers' Mom staff will take very good care of you and your cleaning needs. Soldiers' Mom has service types and plans to fit every budget. You need to check the website and familiarize yourself with all the available service options. Recurring services do come with a flat rate. Soldiers' Mom also has an option for you to name your price. If the available service packages do not work for you, you can always go to the website or Facebook page and search for "name your price." Soldiers' Mom services are provided with a 100% satisfaction guarantee or you get a re-clean.

Q: What do people say about Soldiers' Mom?
A: What our customers say…
"OMG, OMG… I wish I knew you guys ten years ago…"
"You have been lifesavers, with my husband gone almost all the time, there was no way I was going to manage the kids, my graduate school, working from home, and keeping up with cleaning."
See all these amazing reviews here (click to enlarge):
Q: What types of payment methods do you accept?
A: We accept the following forms of payment: Visa, MasterCard, American Express, Discover, PayPal, and Cash. During the pandemic and until further notice, we only accept credit cards.


Q: What should I do before a home cleaning service?
A: To make our cleaning service more efficient, we ask that you pick up clothing, toys, and other household items prior to a visit from our housekeeping teams. Learn more from our website on how to prepare your home for cleaning.


Q: Do I have to be home during house cleanings?
A: No, you do not have to be home. We normally have everyone sign an authorization to enter and provide entry instructions when they book their first appointment.

Q: Do you have any Privacy Policies?
A: Absolutely! Soldiers' Mom does not sell, rent, or trade your email address or any other personal information. We respect your privacy and take the responsibility of protecting the information that you share with us very seriously.


Q: Who does Soldiers' Mom hire to clean my home?
A: Soldiers' Mom is a professional service provider, and we hire insured residential maids who pride themselves in quality cleaning services. Each cleaner is fully trained before they start working for us. Soldiers' Mom LLC is appropriately licensed, registered, bonded, and insured. We hire military spouses as well and encourage them to apply.


Q: Do you offer a return policy?
A: No, Our services are non-refundable. You are encouraged to take advantage of our 100% guarantee and request a re-clean within six hours if you are not satisfied.


Q: Do you offer any type of Price Match Guarantee?
A: We do not price match services, especially with solo individual cleaners who are not actual licensed businesses. Most don't have overhead costs, they don't pay taxes, don't do what we do. We can not price match.


Q: What if I'm not completely happy with the final outcome?
A: All our services are provided with a 100% satisfaction guarantee. If you're not completely satisfied, use the checklist you paid for, mark all missed items, and send that to us within 6 hours to arrange for a re-clean. We will schedule a free re-clean at no additional cost to the customer.

Q: "I lost my cleaner, I know they are great, but I want the same cleaner all the time…" Can Soldiers' Mom send the same cleaner every time?
A: We understand the desire to have one and the same person come to clean your house every time. We also hope you understand, just like at your job/spouse's job, people will come and go always. A cleaning company may bring new cleaners every now and then because people take breaks/time off, people have babies, people move, people change jobs, it is unrealistic to promise and expect to have the same cleaner always. We will do our best, but there may be times we will have to send someone new. Most customers would totally understand and appreciate when our cleaning company works hard and gets a replacement cleaner instead of canceling service.

Q: What should I do if I see…comments like this:
"Not recommended, but I don't know Soldiers' Mom LLC, never signed their contract and they never cleaned our house.
A: A person who has never used our services before can't review us accurately. I would not listen to that person. Contact the company and ask about our happiness guarantee. People can say anything on the internet, that doesn't mean it is true. We appreciate the opportunity to work with all of you and even though we may not be perfect, we will always go above and beyond, make sure you are satisfied, and most importantly, you will always be covered by our satisfaction guarantee. You really have nothing to lose , nothing to lose at all. Give us a call. 

Q: Let's say another random person goes like…
"I am scared to go that Soldiers' Mom route. I have heard scary things, but I have never hired them before. "
A: We are sorry to hear this, but we also want you to know that we are here to help, there is no reason for anyone to be scared to hire a great cleaning company like Soldiers' Mom LLC that gives you a happiness guarantee 🙂 If anyone has any concerns or has heard anything that confused them, we ask them to contact us and we will be happy to help. We would definitely be happy to look into any specific case and assist that individual appropriately. We are here to help and customer happiness is our top priority. Remember, anyone who has never hired us before will never be able to review our services accurately, I would contact the company always.

Q: Do you believe there are a few individuals out trying to say unproven and harmful things about other businesses they have had no experience with at all?
A: Yes, I think all businesses suffer from this problem where negative people that never did business with them would make negative comments about businesses they know very little or know nothing about. We agree this is unacceptable and we hope the world will be more positive and supportive to small businesses someday. We will continue to provide excellent services to all our customers and show everyone that we are that cleaning company you can count on. We would appreciate if all of you would stand with small businesses that are working hard to make their customers happy. Help us grow. 

Q: What do the unfounded/false/negative comments do to our communities?
A: They affect innocent business growth, the bottom line, morale, livelihoods for our cleaners, and even the owners. When people can't get jobs, that means no paychecks we all know that. When people are misinformed and confused, they may go for the wrong providers. For those of us who live on base, we know we have very important agencies on different installations and very important people living on bases. Most people are working from home now due to COVID. Government computers are in our homes. Anything can happen when you have the wrong people in your house. Hire a company that has proven itself, hires the best and the cleanest, one that is trusted by so many to provide consistent, reliable, and high quality services. You will always get a satisfaction guarantee. We all need to be careful and use trusted companies like Soldiers' Mom LLC. We love you and will always be here for you.

Q: What would you say about those few negative people?
A: We work hard to give our customers the best experience. Our customers love us and we feel so blessed. Those who do not know us yet will understand and know us better as we continue to make our customers happy. We understand none of the negative people has ever worked with Soldiers' Mom and they need to try our services first. Those who have tried our services are very happy and will always be covered by our 100% satisfaction guarantee. When you see negativity out there, feel free to take screenshots, send them to us. We'd be happy to look into them and help in a very good, positive, and constructive way.  We promise to always help anyone with a genuine concern. 

Q: What does Soldiers' Mom have to say about other cleaners on base?
A: Soldiers' Mom LLC is happy to learn from others always. We do not compete with individual solo cleaners or other companies. We love them and will be happy to collaborate and work with the other cleaners/cleaning companies someday. There is so much business in this area. We all can invest in marketing, use proven systems, hire a coach, and do a great job. The cleaning industry is not easy. Good customers will come to all of us as a cleaning individuals/companies when we show we care about them through top notch customer service, we provide excellent and reliable services, we are licensed, have insurance, and invest a few hundred dollars in some Facebook ads or google ads. We pride ourselves on providing very dependable services that everyone can rely on, we spend thousands sending out EDDMs, doing Google ads, SEO, Yelp Ads, Facebook Ads, we sponsor events such as the Military Spouse Appreciation, we have systems, CRMs, are licensed, insured, use natural and environmentally friendly products. If there is anything we can do to help solo cleaners or other cleaning companies, we will be happy to do so. Please do not hesitate to contact us anytime. 

Q: As someone so excited to hire you guys, now what should I do?
A: As a customer/prospect who has heard some wonderful and great stories about Soldiers' Mom, the next thing you want to do is talk to us or go to our website and book your appointment in three easy steps. (select service type, book appointment, e-sign guidelines to confirm the appointment). We are a great business with a mission to make your daily lives easier. We will never be a reason to give you stress. Here to help

Q: Why is it Important to have a good and reliable cleaning service provider on base like Soldiers' Mom, one that hires only the best with a clean background?
A: We, at Soldiers' Mom LLC, have worked hard to build trust. We communicate, we are reliable and we will not let you down if we promise something. We went through a very stringent process before we could start cleaning, have cleaned for families that live on military installations for a long time, we have a squeaky-clean background, we hire only the best, we screen our cleaners, we make sure background checks are run before we bring anyone to your house. We also hire and support military spouses and will continue doing so for a very long time. We work hard for our community. Your satisfaction, peace of mind, and safety is our top priority.

Q: What is your advice today for the people that live on the base and off-post?
A: You can trust Soldiers' Mom to take care of all your cleaning needs. Do not let unfounded, unproven, and baseless misinformation make you miss a rare opportunity to work with one of the most reputable cleaning businesses in DC, VA and MD. There is no other cleaning business out there that understands military families and has dedicated their services to military communities like we do. We will work with you and make sure we meet and exceed your expectations. We will work with your budget as well. Give us a call.

Q: How do your services help improve our quality of life? Why should we hire a cleaning service?
A: By not having to stress about basic chores, you can focus on other important things like that business idea you have been putting off for a while. You need to rest and spend quality time with your family instead of cleaning your house every weekend. For the service members; when you have to go away and leave your family behind, we can definitely help the families you leave behind, we will take care of the cleaning for them.

Q: DC Prices Vs. Our Prices: See attachment.
What is the going price for cleaning services in DC?
A: Even though Most cleaning businesses in DC, VA, and MD charge $60-$90+ per labor hour/billable hour/per cleaner, we have not been charging our customers strictly by the hour, but a flat rate. As of September 2020-Our Prices range between $50–$60 per labor hour/per cleaner/billable hour. We also have exceptional prices for recurring services and special package prices like deep cleans. You may get up to three labor hours of cleaning for only $140 if you are a bi-weekly customer. As a licensed and insured business, we are priced well below the national average for professional cleaning services. See more of our special packaged prices here and book your appointment anytime. Book now at: https://soldiersmom.net/book/

Q: Do you offer any flat rates?
A: Well, good question. We do. You will get a flat rate when you sign up for our recurring services weekly or every other week service. You could also say weekly or bi-weekly service.
Most of our move out and deep deluxe cleaning customers do get a flat rate when they call us and provide all the details we ask for. We may have a limit on the number of hours. For most houses on Andrews, JBAB, and even Belvoir, if the square footage is not over 2000, we would normally need about 5-6 labor hours to clean for a move out. We send out solo, experienced, and very detailed cleaners and they do a great job.

Q: Does Soldiers' Mom provide all the supplies and equipment?
A: Yes, we provide all the equipment and supplies. We may ask that you provide a vacuum now due to COVID-19 to minimize chances for cross-contamination. That is the only thing we might ask for from you. Have your vacuum ready, everything else will be provided by Soldiers' Mom LLC.

Q: What is your bad weather policy?
A: We normally follow what schools do with a few exceptions. If the weather is really bad, all appointments will be rescheduled. If the cleaning tech wants to work and can drive safely to the house, we inform the client that we will be working, but maybe starting an hour earlier or later than usual (for example). We urge the techs to stay home if the roads are bad, but if the roads are clear, we allow them to go ahead. If in doubt, we want our techs to stay home and not get in a wreck. We would continue to monitor the weather and keep you and the cleaner updated if there are any changes to the schedule. 

Q: What are Soldiers' Mom core Values?
A: Our Core Values: Integrity, Duty, Honor, Respect, Dedication, and Reliability. We are a business that goes above and beyond. Our decision to do what we do came from truly caring about our communities.
Meet Our Team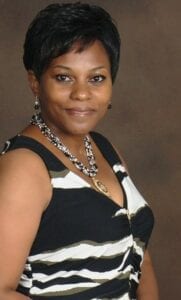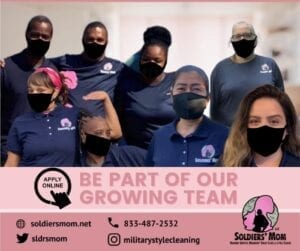 SM/TCM-Virtual Assistants/Back Office Staff

Janine


SM/TCM-Virtual Assistant

Selene
SM/TCM-Virtual Assistant

SM/TCM-Back Office

Andrea
SM/TCM-Virtual Assistant

Q: Is it ok to expect all professional cleaning service providers and companies to have base access ? 
A: While Soldiers' Mom has been a vendor for Military Housing and hires military spouses with base access, other cleaners may not do things the same way. We can all work with those who have a clean background, can pass a background check, and help them get a pass/get vetted. The question we should ask is not "Do you have base access?" but 'Does this cleaner have a clean background and can she/he get a pass/be sponsored? 
At Soldiers' Mom, we will always hire the best and the cleanest, most of whom are spouses and other great cleaners who are not spouses.  Soldiers' Mom LLC is growing, we have very high demand. There may be times you will get a cleaner who has never been on base. We may not process passes for everyone all the time, but we make sure the cleaner is clean enough for you to sponsor on the base without any issues at all. The customer must be prepared to process a pass for a cleaner assigned to their house if that cleaner does not already have base access. You will be informed ahead of time. We have contacts for the pass processing units/visitors' centers for you. We promise you will be just fine and there is no reason to worry about anything at all.
The other way we can solve this problem and help all of you is by working with us and support our efforts to be your main and most reliable professional licensed cleaning service provider (For the residents). We can use our Vendor status, and have all our other cleaners vetted in order to help you.  We guarantee that all the cleaners we will send to your houses will always be able to pass a background check. Yes, we can work together and make this happen someday. By doing this, we will save you all time and you will be supporting a dream. Soldiers' Mom will continue to hire spouses and support other small businesses. We can do this.

Q: What is the ETA? Arrival Window?
A: At Soldiers' Mom, we do make an allowance for things like traffic jams, inclement weather, and any other event that might delay the cleaner somehow. We will provide a time frame instead of a definite time.

Q: I have received an appointment reminder and it shows 12pm-2pm. Does that mean you're going to clean for two hours for my move out clean?
A: Well, the 12 pm – 2 pm ETA is an estimated time of arrival. It states in the reminder email that if you have a window, that's an estimated time of arrival. We provide this window to allow for things like traffic and any other unforeseen events and even the pass. We will make sure this is elaborated in all our email reminders. Our appointments may take 3-6 hours most of the time.
Your assigned cleaner will arrive within that window, and she will clean for the hours you paid for or use a flat rate checklist from when she arrives. She would normally clean until she finishes that list if you are a regular customer, are getting a deep clean, or a move out with a flat rate. Please let us know if you have any questions.

Q: What is your piece of advice for the Leadership/Command on different bases today?
A: We would like to thank them for what they do for our community. Our advice is for them to do more in helping spouses who are trying to get their lives together by starting small businesses where they are stationed. Support their efforts especially when what the spouses do positively impacts our communities. There are so many opportunities on military bases, but the spouses are always left behind. Even when we try, we face so many obstacles. I am that example and I know there are so many more out there like me. We would also greatly appreciate if we could get the support of leadership and decision makers to help us in our efforts to become the main cleaning service provider for the residents who live on military installations because the residents who live on base do need our services. How do they do this? They can do this by making sure we are treated fairly and our problems are addressed. There is no other cleaning service company that caters to the cleaning needs of the residents on any installation in the DMV like we do. Soldiers' Mom is working hard to be that company all on-base residents can count on. Our company has been working very hard to support families and we have a program to help and give back to the families. We will always be here to help. We will always do our best and provide high quality services at very good prices that military families can afford without a problem at all. We can also work together to come up with arrangements that will be more helpful to our communities.

Q: As the owner of this business and someone who also lives on the base, what is your advice for those who live on the base and have so many problems with on-base housing?
A: We take tremendous pride in the work we do. We believe in integrity, professionalism and dedication. If there is something that has happened that has left you doubting our level of excellence please do not hesitate to let me know. We appreciate all the feedback both positive and negative as it allows us to grow and empower. We constantly strive to empower our employees and value continued education to support the everchanging needs of our industry. We surround ourselves with like-minded business owners and constantly invest in our company.
In my opinion, the Leasing and Housing staff are doing their very best and things continue to improve. As someone who lives on base, I understand there are all kinds of issues. We have been working with them every time something happens and they do their best, they would send maintenance, fix issues and life goes on. The same way we give these big businesses so many chances, we can also try and give our local small businesses a chance to grow, correct their mistakes, and learn from those minor mistakes. We can talk to people and address issues that arise the same way we do with Amazon, Housing, Apple, and many other companies out there.  We are all in this together. I can not speak for others, but those are just my two cents for today 🙂