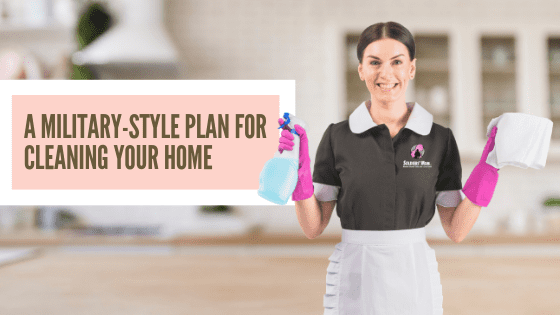 From the kitchen to the living room, we all want to come home to place that's spotless. Uniformed personnel, however, could barely give their homes a good vacuuming on account of their busy schedules. They just want to lie down and enjoy their time away from service. Cleaning up should be the last thing in mind when you could spend quality time with the family! 
But no battle is ever won without applying a workable strategy.
And since home cleaning is a challenge in itself, there are ways to make all your household chores less tedious.
Here's how you can develop a military mindset to keeping your home in order:
Make a checklist and maintain a routine
A good soldier has to adopt a healthy daily routine!
Learning how to stick to a routine will make cleaning the house a daily ritual you wouldn't want to skip.
Start by coming up with a checklist of all areas in your home and determine how frequent you should clean each one.
The living room, obviously, has to be cleaned every day in case of surprise visits from relatives and co-workers.
Build your cleaning arsenal
Cleaning your home has to involve getting the right materials and tools.
Your cleaning arsenal should be well-maintained and stored away out of children's reach!
When shopping for new cleaning materials, you might want to pay a little extra.
High-quality tools make all the difference when it comes to achieving optimum cleanliness,
so make sure you choose brands you can trust.
Have everybody help out
Before you start packing your bags for that long-awaited fishing trip,
you might want to freshen up your home first. You shouldn't deal with it alone!
You can get someone else in the family to help you sweep, wipe, and declutter certain areas.
The more they cooperate, the better the results you get!
Hire a reliable cleaning company
In the heat of battle, there are times when you have to call for backup.
When your home cleaning gets out of hand, you can always hire someone else who can do it for the best value.
You just have to vouch for the company's reputation and perform a background check on the company's cleaners.

Don't let your home stay as-is.
While you're away before your next tour of duty.
A professional cleaning company can help you free up more time for the family.
Soldiers' Mom is one call away!
From the occasional general cleaning to deep cleaning and spring cleaning, we've got it all for you. 
Plus, get a $30.00 discount on your first appointment now when you mention SPRING30 upon booking!
Call Soldiers' Mom Today!
833-ITS-CLEAN