Your Best Professional Cleaning Buddy
It is a known fact that everyone likes it when their houses stay squeaky clean all week long. However, doing the cleaning itself is a different story. Most people are engrossed with work, tight deadlines, and taking care of kids leaving little to no time in doing deep cleaning in the entire household. Thus, using professional cleaners is the best way to go. 
So, are you looking for a local cleaning service? Look no further. Soldiers Mom is your best professional cleaning buddy specializing in cleaning for military families and first responders, in addition to our regular customers. Our team is made up of highly trained and meticulously handpicked cleaning professionals who can guarantee a good quality cleaning service to fit your needs.  Soldier's Mom has so much to offer and we guarantee you to have an exceptional experience with us. 
Value for Money
Professional cleaning service packages would cost an average of $120-$350 in Washington DC depending on the square footage and location. Soldier's Mom guarantees great value for your money; thus we offer a wide range of cleaning package options for you to choose from. 
Are you moving to a new place? We have a good offer for you. Use our Move in/Move out cleaning services. It is sure a 100% guarantee to pass your move-out inspection and we stand by that. Should the cleaning service does not suffice your expectation, we are sure to send someone back to work on it whatever is missed within the 24 business hours. This is because you deserve to get exactly what you paid for.
Flexibility and Accommodation
Here at Soldier's Mom, we value flexibility in terms of choosing your cleaning services. To use our service, you have below options to choose from: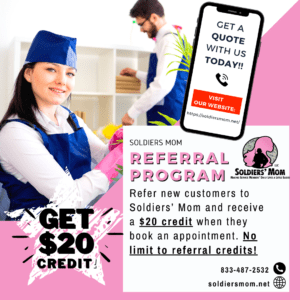 – Make your offer
– Request Custom Quote
– Request Pre-packaged Quote
We want to be able to offer services to different customer needs. 
Enticing Promo and Referral Programs
Save time and money in your cleaning needs by taking advantage of our various promotions. 
Save up to 30% on your first cleaning service when you book our recurring service. That is an additional 30% on your savings!
Referral Program
Help your friends, family, and colleagues with their cleaning predicament by referring our service to them. You are not only helping them keeping their household cleaning, but also helping yourself get an extra $20 credit for every referral. What is even more interesting is that referral credit is unlimited. Help as many friends you know and earn more credits. 
Share a special gift to someone dear to you by availing our Gift Cards. It is sure to be one of the best gifts a tired and hustling mother could have on a special occasion or even during regular days.  
Wait no more! Book a cleaning service with Soldier's Mom today and start enjoying that sparkly clean house in no time!