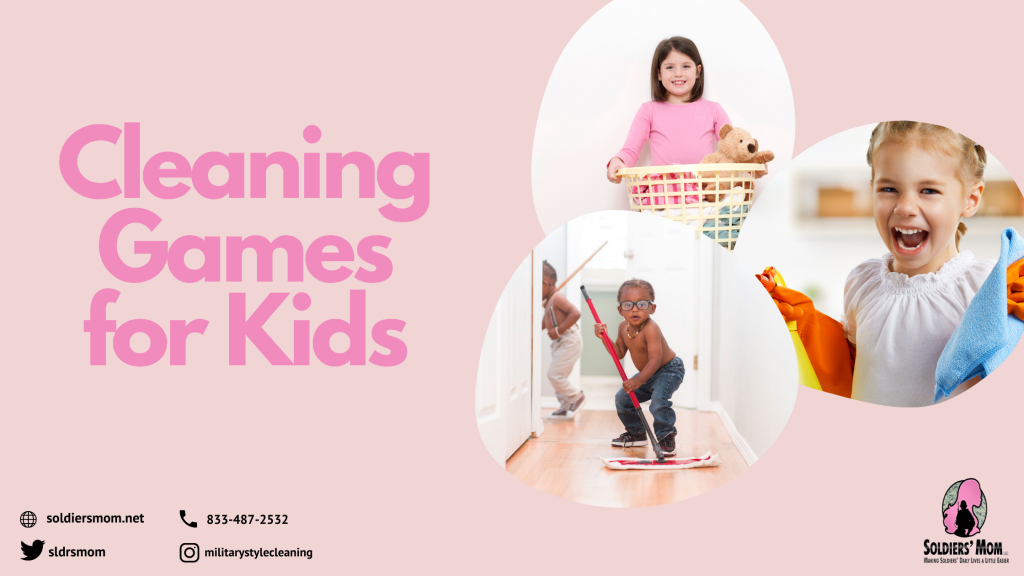 Let's make cleaning fun for everyone!
We all know how hard it can be to get our kids to help clean up after themselves. As parents, we are always searching for ways to make cleaning up seem more fun to entice our children to help out more it. It's frustrating when you ask them to pick up their toys or put the laundry in the hamper, but it doesn't get done. It can be challenging when they don't do this, especially if you live on-base housing or in a small home because it always feels like there isn't enough space. Toys, games, shoes, clothes, and other things that get left around the home can clutter it up very quickly. Depending on your children's age, some of these games might need to be tweaked just a little. Also, if you have older children, they might not be into these games at all. The goal is to get a general idea of what might work for you and your children and then make it a habit, so helping around the house seems less like a chore and more like fun.

Speed Tidying 
This works well for younger kids ages 4-8. I use this game for my kids and set a timer. I usually set it for around 10-15 minutes, and we play in rounds. You can also make a scoreboard to reward them for beating the timer. You can also use the scoreboard to track how fast they clean up each time. If you have younger kids that are toddler-aged, you might want to entice them to clean up by racing you or a sibling.
Laundry Dash
You can either play this game with your child or get siblings to race against each other. Once the laundry has been folded, separate it into even piles. The game aims to get your pile of laundry neatly back to where it is supposed0 to be, such as your t-shirt drawer or the sock drawer. This is organizing made fun! You can also switch it up to get dirty clothes off the floor and into hampers by doing a race. Whichever child gets all their clothes into the hamper first is the winner. If you have a toddler, you can set a timer and have them try to beat the clock to get all their clothes cleaned up to make it more simple for them.
Play Acting
Your kids can show off their acting talents and cleaning prowess both at the same time with a play-acting cleaning game. They can dress up as a butler, cleaner, maid, or even Cinderella to carry out their household chores. You might want to make a fun video of them doing so to make the experience even more enjoyable for them. This is a fun idea if you have a child that loves to play dress up! My daughter loves play-acting, so not only is she cleaning, but she is using her imagination at the same time. It's a win-win!
Get Your Child a Mini Vacuum or Cleaning Kit
These are great, and most of them work well enough to pick up some dirt and debris off your floor! To make household chores more child-like and entertaining, invest in a children's cleaning kit, such as the Cadson Little Helper Cord-Free Vacuum off Amazon or the Melissa and Doug Dust, Sweep, Mop set, also found on Amazon. It will give them a sense of ownership when cleaning up and encourage them to help mom and dad out around the house. This is great for role-playing and boosting their imagination too.
Turn on the Music
This is my kids' favorite way to get some cleaning done. You can make a playlist of their favorite songs, I have a playlist that is about 20-30 minutes, and while it's playing, they are cleaning. This encourages movement, and music makes everything better! If your children are younger, make a shorter playlist that suits their attention span.
Chore Chart/Rewards Chart
If your kids are older, as in tweens and up, this might be a good way to entice them to do their chores. Set up the chart with their chores: making the bed, picking up their room, putting dirty clothes in the hamper, keeping any sports equipment picked up, etc. When you get ready to do this, talk to your child about something they have been really wanting or something they want to do. Explain that each chore is worth so much, and they can earn what they want that way. This is a good incentive to teach them how to be responsible, learn how to achieve goals, and keep the house clean.
Soldiers' Mom
Have you tried one or all of these, and your kids still aren't helping clean up after themselves? If that is the case, then Soldiers' Mom would be happy to help you get your home spick and span again with a Deep Deluxe clean, as well as recurring services. Now is the best time to book too. There are two amazing offers for Mother's Day, and they won't last long, so call today and get booked.
Soldiers' Mom is running a special on our Deep Deluxe Cleans with $30 off our already unbeatable flat-rate prices! You can also get 50% off your initial Deep Deluxe Clean when you book a recurring service that same day.
Call 833-487-2532 or go to www.soldiersmom.net/book/ to schedule your appointment today!